Corpus Legal Practitioners and University of Zambia sign collaboration MoU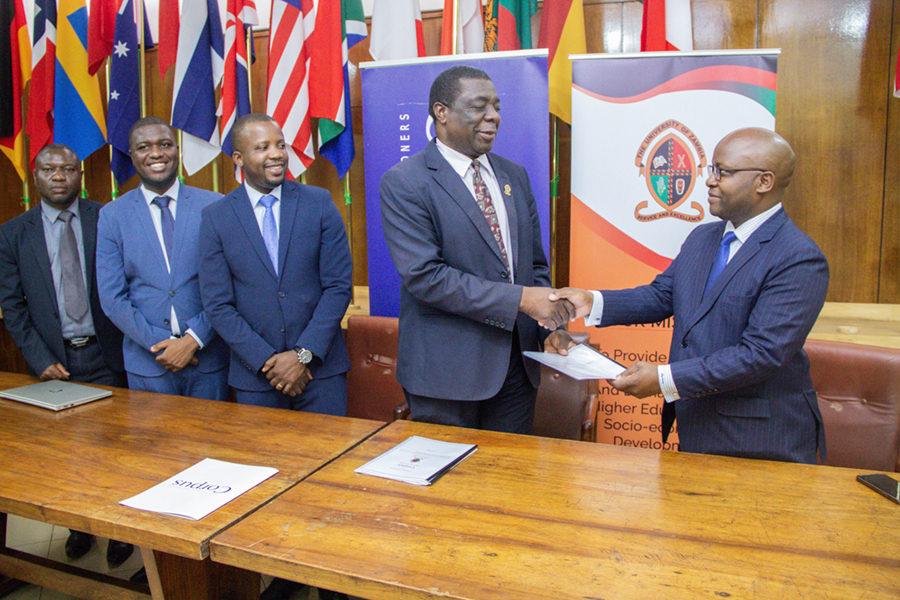 Lusaka, 6th December 2022 – Corpus Legal Practitioners ("CLP") and The University of Zambia ("UNZA") on Tuesday, 6th December 2022, signed a Memorandum of Understanding ("MoU") whose areas of collaboration include legal research, financial support for school activities and retention of students on internship and possible permanent employment. The purpose of the MoU is to deepen the relationship between the two institutions whose ultimate purpose is to provide exposure and give candidates practical legal experience, for the ultimate purpose of corporate growth for both institutions.
Corpus Legal Practitioners has continually demarked itself by the significant contribution it has made to the higher education sector in the law discipline over the 27 years of its existence with its quest to facilitate research and development in knowledge sharing with an aim of building a CLP centre of excellence.
The MoU signing ceremony marks a milestone of two institutions' commitments intended to promote a framework for collaboration which includes innovation, research, knowledge, and expertise. Further, this undertaking would not just help in fostering the relationship between the two institutions but would also promote a genuine partnership that champions ambitious and innovative efforts focused not only on excellent technical skills but also on enhancing those commercial and personal skills and behaviours needed to equip junior lawyers for the future world of work.
Corpus Legal Practitioners represented by the Managing Partner, Mr. Sydney Chisenga, and the University of Zambia signed the MoU at the UNZA Senate Chamber on 6 December 2022.