Zambia's Kafue Gorge Lower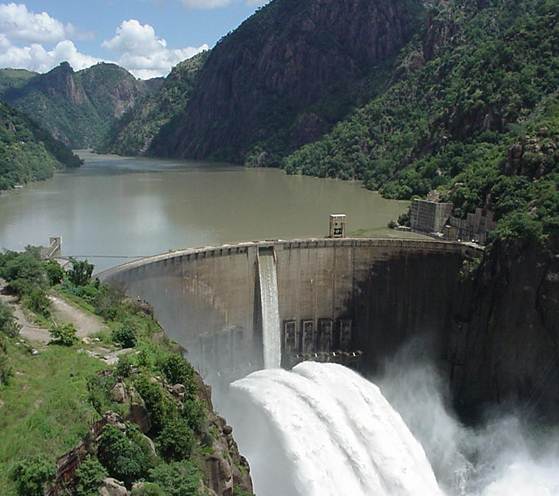 Exploitation of the river's power potential started in 1973 with the 990 MW Kafue Gorge Upper (KGU) power plant followed by the 120 MW Itezi Tezi power plant in 2015, and now KGL. Although each of these power plants have their own dams, they all rely on the larger Itezi Tezi reservoir 260 km upstream of KGU to operate at full capacity. KGL is situated approximately 90 kilometres south of Lusaka by road, and approximately 58 kilometres from the confluence of the Kafue River with the Zambezi River. Construction of the power station began in November 2015, undertaken by Sinohydro, at a cost of USD 2 billion; and the project was funded by Exim Bank of China, the Industrial and Commercial Bank of China, and the government of Zambia.
KGL has increased Zambia's installed generating capacity to approximately 3,550MW of which 88% is hydroelectricity. However, in recent years, droughts have prevented the power sector from utilising its full capacity. Compounding this supply problem included growing demand and historically low levels of investment in new generation capacity. This demand-supply imbalance culminated in crippling power cuts during 2015/2016, which continued to persist. However, KGL should provide a welcome measure of reprieve in the short-term. With demand growth rates estimated at 200 MW per year from the mines, industry and retail consumers, additional capacity will be required in the medium – long term.
Example of The International Private Law
We are proud to have contributed to phase 1 of the project as Legal Advisor to the project which included legal and financial feasibility studies; project, commercial and financial structuring; project documentation; among other deliverables.
Corpus advises local and international clients in relation to the financing, development, and operation of projects in the power sector across hydro, thermal, solar, biomass and wind sources. We also negotiate a full suite of the various requisite documents and agreements. Some of our notable work includes the following:
Advisor to Access Zambia Wind One Limited, a subsidiary of Access Power, a Power Africa partner and developer; owner; and operator of power assets in emerging and frontier markets, regarding conducting a feasibility study on the viability of a 130-140 MW wind power project in Pensulo, Zambia by the United States Trade and Development Agency (USTDA)
Advisor to the International Finance Corporation (IFC) which advised the Industrial Development Corporation (IDC), a Zambian government holding company for all parastatals, on the procurement of two solar photovoltaic (PV) plants of up to 50 MW each, under Round 1 of the 600MW Scaling Solar Project
Advisor to France's NEOEN- First Solar Inc. consortium, one of the two winning developers of the USD 60 million project under Round 1 of the 600 MW Scaling Solar Project, in relation to the development of a 47.5 MW power plant
Advisor on the acquisition and subscription of a 50% stake in Lunsemfwa Hydro Power Company Limited
Advisor on the establishment of a 330 KV transmission line from Zambia to Tenke Fungurume Mine in the Democratic Republic of Congo.
The Author, Ernest Mate, is an Associate in the Firm's Corporate Advisory Department.